Gain a Competitive Edge with These Strategies for Local SEO in Pakistan
Improve your ranking in the Pakistani marketplace with Local SEO Pakistan. By targeting relevant keywords, managing NAP consistency, creating geo-targeted content, link building and more, businesses can increase visibility and reach a larger local audience. Take your business to the next level with a comprehensive Local SEO strategy.
Boost your search engine rankings and drive organic traffic with our comprehensive SEO solutions.
Make a lasting impression with our professionally crafted web designs, tailored to your unique brand."
Drive more leads and conversions with our effective Google Ads campaigns, designed to maximize ROI
Engage your audience with high-quality content that showcases your expertise and drives results."
Social Media Marketing 20k-40k
Maximize your reach and engagement on social media with our tailored social media marketing strategies
Search Engine Marketing (20K-40k)
Dominate the search engine results with our targeted SEM campaigns, designed to reach your target audience
Having an online presence is critical for any business, large or small. But to stand out in the crowded Pakistani marketplace, you need to make sure your website is visible to local customers. That's where Local SEO Pakistan comes in. It's a strategy focused on improving a website's visibility in the local search results of major search engines like Google, Yahoo and Bing.


Local SEO Pakistan helps a business increase their visibility and search engine ranking in local markets. Local SEO works by optimizing different elements of a website such as content, backlinks, meta tags, keyword usage and other technical aspects for local search engine optimization. It's important to note that the success of local SEO heavily depends on properly researching, targeting, and executing strategies based on the local market
Google My Business (GMB) Listing
The cornerstone of any local SEO strategy is having a verified GMB listing. Google My Business enables businesses to create an online presence on Google which can be enhanced with photos, videos, customer reviews, business contact information and more. As part of a well-rounded local SEO plan, it is important to have a properly optimized GMB profile to get found in local searches.
Seoblogy is committed to delivering 100% satisfaction to our clients. If you're not completely satisfied with our services, we'll do everything we can to make it right. Our goal is to build long-term relationships with our clients based on trust and results
Honest Up-Front Pricing By The Job: Seoblogy is committed to being transparent about our pricing. We charge by the job, not by the hour, so you'll know exactly what you're paying for. Our up-front pricing helps you budget for our services and avoid any surprises along the way.
Local Keyword Research and Targeting
Another important part of local SEO Pakistan is performing local keyword research. By understanding which terms people are using in local searches, businesses can identify relevant keywords they should target in their content and other optimization efforts. Additionally, local keyword phrases should be used in website titles, descriptions, and various other optimization efforts.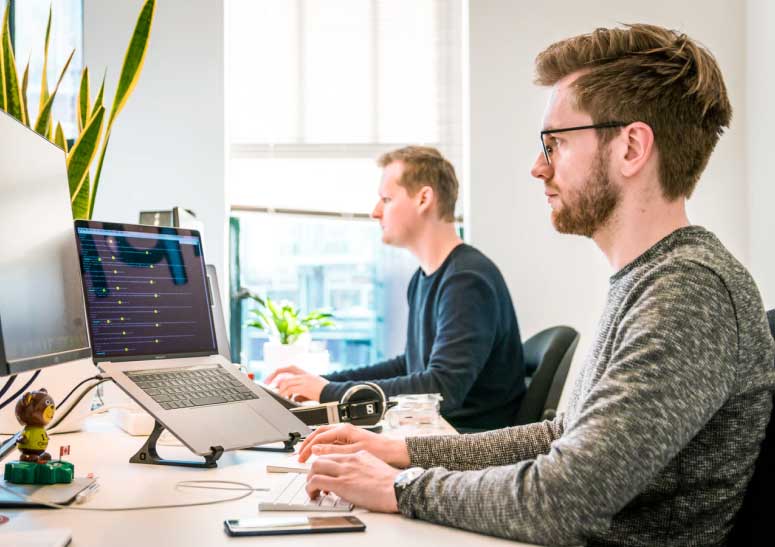 Citation Building and NAP Consistency
Citations are one of the most important components of local SEO. Citations refer to mentions of a business's name, address and phone number (NAP) on websites such as Yelp, Yellow Pages, and other local directories. Accurate citations of a business's NAP are essential for consistent local search engine rankings. Additionally, citation building also helps with increasing visibility, as well as improving trust and reputation.


Your Trusted Search Marketing
Creating localized content is important for local SEO Pakistan. By having content that is specifically designed for local searches, businesses can increase their visibility and reach a larger local audience. This can include blog posts, case studies, local guides, and other content pieces tailored to the local audience.
Link building is a crucial part of SEO, regardless of whether it's local or organic SEO. However, local link building can be particularly effective when it comes to local SEO. This includes building links from local websites, as well as websites related to the local market. Additionally, relevant social media links can also provide a boost in local rankings.
Online Reputation Management and Local Reviews

Online reviews and ratings are becoming increasingly important for local SEO Pakistan. People are more likely to patronize a business if there are positive reviews about it online. Businesses should encourage customers to leave reviews, as this will help to portray the business in the best possible light. It's also important to manage any negative reviews and respond appropriately.
Hyperlocal Targeting and Google Maps Optimization
Hyperlocal targeting refers to targeting specific neighborhoods within a city or region. This is especially useful for reaching customers who might not be familiar with the area. Google Maps Optimization is also essential for local SEO as it enables businesses to appear in "near me" searches. This can be achieved through ensuring all relevant business information is provided to Google and regularly updating it.

Local Social Media Marketing

Social media is an effective marketing channel for local businesses, as it can help to engage with a local audience and build relationships. Platforms such as Facebook, Twitter and Instagram, offer a great opportunity to reach out to local customers and promote your products or services. Additionally, businesses should also seek to engage and interact with customers to foster better relationships.



Mobile Optimization for Local Search
With a majority of users now accessing the internet through their mobile phones, businesses must ensure their website is fully optimized for mobile users. This includes making sure the website is responsive, loading quickly, and has all the necessary information to guide users through the buying process.

Local SEO Analytics and Reporting

Analytics and reporting are essential for tracking the success of any SEO campaign, including local SEO. This can involve tracking how many visitors the website receives, which keywords are driving traffic, and what type of content is resonating with the local audience. By monitoring and analyzing this data, businesses can gain valuable insights into the effectiveness of their local SEO strategy.

By following the above steps and addressing the important components of local SEO, businesses in Pakistan can boost their visibility and reach more local customers. In order to stay competitive in this crowded marketplace, businesses must invest in a comprehensive local SEO strategy. With the right approach and tactics, businesses in Pakistan can gain a competitive edge and succeed in the local search engine rankings.


Mobile Optimization for Local Search
Local Advertising
Advertising on local platforms can be a great way to reach potential customers. Platforms such as Facebook, Yelp, and Google Ads all offer local advertising solutions that can help businesses target customers in their local area. This can be used in conjunction with other local SEO initiatives to increase visibility and reach a larger audience.
Optimizing for Voice Search

Voice search is becoming increasingly popular, meaning businesses need to optimize for these queries in order to reach local customers. As voice searches tend to be more conversational, it's important to ensure that local content is optimized for long-tail keywords. Additionally, businesses should also consider creating content specifically tailored to voice search queries.

Directory Submissions

Submitting to local directories is a great way to increase visibility and drive traffic to a website. There are many local Pakistani directories that businesses can submit their website to, such as YellowPages, JustDial, and Pakistan Yellow Pages. Additionally, businesses should also look for opportunities to submit to general directories such as DMOZ, Yahoo and Bing.

Catering to Local Customers

For local SEO Pakistan to be successful, businesses must understand the needs and preferences of their local audience. This includes having content that is tailored to the audience, as well as highlighting any unique features or services that are related to the local market. Additionally, businesses can also consider offering discounts and promotions to local customers.

Local Events and Promotions

Attending local events and engaging with customers through promotions and activities can help to build relationships with the local community. Many businesses have seen success through organizing local events or partnering with other local businesses to hold promotions. Additionally, hosting meetups can be a great way to spread awareness about a business and build relationships with customers.

Encouraging Referrals

Referrals can be a great way to boost local SEO efforts. Businesses should seek out opportunities to encourage customers to refer others. This can be done by offering discounts or rewards, as well as providing clear instructions on how to refer. Additionally, businesses should also consider offering incentives to employees who refer customers.

Utilizing User-Generated Content

User-generated content (UGC) can be a great way to engage with customers and build relationships with local communities. UGC can include photos, videos, and reviews from customers, which can be used to create content for websites, social media accounts, and local ads. UGC can also be beneficial for local SEO, as it provides fresh and valuable content to search engines.

Optimizing for Local Competitors

It's important to research and understand the local competition in order to be successful in local SEO Pakistan. Businesses should research what the competition is doing in terms of SEO and look for opportunities to stand out. This can include targeting different keywords and local directories, as well as creating content that is better than the competition's.

Website Speed Optimization

Website speed is important for both organic and local SEO. Slow loading times can result in higher bounce rates and lower rankings in the search engine results pages (SERPs). Businesses should ensure that their website is optimized for speed in order to improve the user experience and achieve higher rankings.

Staying Up to Date with Local SEO Updates

The world of SEO is constantly changing, and businesses must keep up with the latest trends and updates in order to remain competitive. This includes regularly checking for Google updates, as well as staying up to date with local SEO best practices. Additionally, businesses should also consider attending local events and seminars to get insights into the